{WHO IS GOD !!!!!!!X!!!!!!! ????}
"THE SEARCH CONTINUES !!!!"
a new JOGging series !!!!!!!!
Starting @ JOG.929
A&Q ][ Q&A:
1. ~~~~ the god of science: a father effect ~ a father field ~ a father mechanism ~~~~
2. No mother needed !!!!!!
3. 4 this science god in the beginning the universe was without form and void, and DARKNESS was upon the face of the deep !!!!!!
4. Sound a little familiar ???? GENESIS 1.2
5. Their father god higgs effect ~ field ~ mechanism resides in a wave of nothing in nothing for everything was void, but it was oscillating and fluctuating !!!!!!
6. & at the PERFECT OSCILLATION X FLUCTUATION an IMMACULATE CONCEPTION & IMMACULATE DELIVERY OCCURS SIMULTANEOUSLY due to this TRINITY OF HYPOTHETICALS and a son is conceived & born all at once !!!!!!
7. The son is a hypothetical particle, and is known as the "god particle" ~ "the higgs particle" ~ "the higgs boson": there's that trinity again !!!!!!
8. This grandson god has the hypothetical mass to ENDOW smaller particles with mass to allow hydrogen to form !!!!!!
9. ENDOW: to provide with NATURALLY !!!!!!!!
10. Hypothetical: conjecture guess !!!!!!
11. "If you build it they will come !!!!!!"
12. They make billions of whacks in atom smashers before they claim to detect something worth LOOKING at !!!!!!
13. And in 2011 – 2013 the grandson god particle is said to have made an appearance at the large hadron collider in Europe !!!!!!
14. And then it quickly disappeared !!!!!!
15. Actually it never appeared, only an observed decay of energy on their specialty built event capture devices suggests that it made an appearance !!!!!!
16. They thought they had it but there is debate about some missing hypothetical decay particles and that what they think they saw may be only an imposter !!!!!!
17. So all these fathers & doctors of physics, without mothers, guess for answers for THE CREATION OF THEIR UNIVERSE !!!!!!
18. The more they OBSERVE in atom smashers and from outer space instruments the less they understand & the more they guess !!!!!!
19. Google "The Pandora's box of physics" and you will see how dark these gods really are !!!!!!
20. Dark Energy & Dark Matter are some of their largest hypothetical whacks in outer space to explain what's going on as they LEARN MORE & their theories fall apart !!!!!!
21. This Dark Energy & Dark Matter make up 95% of all the energy of their universe and they really don't have a clue as to what it is !!!!!!
22. So if their gods and sons of gods and grandsons of gods are still in the dark maybe it is time to LOOK for THE LIGHT from A DIFFERENT SOURCE ????
23. So could THE ONE GOD exist scientifically ????
24. In all probability, YES !!!!!!!
25. Based on a COSMIC energy analysis including their Dark Energy & Matter: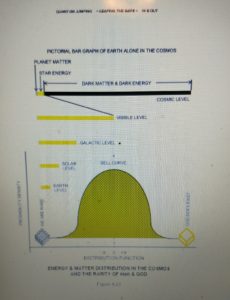 26. All THE SOLUTIONS to their "Pandora's Box" seem to coagulate in a new theory of THE COSMOS called "NATURE'S MEND FOR THE UNIVERSE from logical simplicity heretical uncertainty OF INNER SPACE & OUTER SPACE [QUANTUM & COSMIC]" where everything that ever existed ~ existed in an ORIGIN PARTICLE 120 billion lightyears in diameter !X!!!!!!!!X!!!!!!! See TON 1 PPC NATURES MEND from FREE STUFF !X!!!!!!!
27. So if new science raises the possibility of THE ONE GOD EXISTING we should CONTINUE ON our SEARCH !!!!X!!!!!!!!